Wipe with clean cloth clean surface with damp cloth. Surface dust may damage panel that requires polishing.

Denib using Mirka Micro remove all surface imperfections using Mirka Royal Micro P1500.

Pre-polish using Mirka Abralon throughly remove all P1500 sanding marks using Mirka Abralon P2000 (damp). To improve polishability on dark colours follow up with Mirka Abralon P4000 (damp).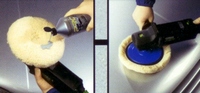 PPG Plus lambs wool pad condition new lambs wool pad with PPG Pro-1 polish. Add 5ml of polish to buff pad. At low speed, work polish onto painted surface. Repeat process until pad is saturated and leaves polish on the panel. Once the pad is conditioned store in zip lock bag so it remains moist.
Cut using PPG plus lambs wool pad apply small amounts of polish directly to buff pad. Polish desired areas with a variable speed polishing buf beginning at 800rpm and increase gradually to 1200rpm. Polish until all sand marks are removed.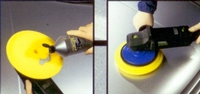 PPG Plus yellow pad attach the PPG plus yellow foam pad and apply 5ml of PPG Pro-1 polish to the pad. Polish until all minor swirl marks from lambs wool pad are removed. For light colours no further polishing is required.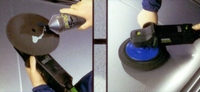 PPG Plus black pad for dark colours apply 5ml pf PPG Pro-1 polish to the pad. Polish until all minor swirl marks from yellow pad are removed.

Wipe with microfibre applicator pad add 5ml of PPG Pro-1 polish to yellow PPG plus Microfibre applicator pad. Wipe polished area for a brilliant shine. The PPG microfibre cloth can be used to remove any excess polish or residual marks.